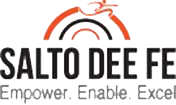 Testimonials
Home
Testimonials
Authbridge has engaged with Salto Dee Fe for close to three years now.
During this period, the SDF team has helped us on many fronts, the prominent ones being helping set direction for Authbridge, defining the vision and people strategy, building the performance management system, leadership development interventions etc. I would like to commend you, Santwana and the team for displaying a keen understanding of business, appreciation of the Authbridge context and your desire and willingness to create be-spoke solutions for us.
It is really heartening that all of you have integrated yourselves as a part of Authbridge and have brought about a positive impact on the business momentum.
I truly appreciate all the hard work that you and the team have put in and I look forward to many more years of working together as we take AuthBridge to the next levels.
'Mr. Ajay Trehan'

( Founder & CEO, Authbridge )
"We engaged Salto Dee Fe to help transform our Performance management process. It was critical to align our goals to the outcomes desired by the board in a manner that they get cascaded down to the last level. In addition we introduced a competency framework in line with our Buisness imperatives and values. This will go a long way in influencing the right leadership behaviours to be able to build an admirable institution. Rajan and his team did a fantastic job not only in putting the new system in place but also in helping align key stakeholders to our vision in this regard."
'Mr. Rajit Mehta'

( MD & CEO Max Healthcare )
Rajan worked with us extensively on Business Strategy and Planning as also in the area of Job Profiling and Interviewing for the sales function. He brings a deep understanding of both Business and HR in his engagements, combined with a mature, real and practical approach to planning and execution. His engagements provide real and tangible value.
'Mr. Bhaskar Bagchi'

( COO, India Homes )
"Rajan is one of the BEST HR professionals I have come across in my 40 years of working life with multinationals! His approach is very business oriented and pragmatic and at the same time very fair and developmental for all employees."
'Mr. Rajeev Grover'

( Managing Director - HLS Asia Ltd )
SDF partnered with India Homes in designing their key business processes to "improve sales effectiveness and achieve exponential growth plans". The design was optimised to aid achieving the sales of $ 1 million within 5 months.
'Mr. Ashwinder Raj Singh'

( Head - Sales & Distribution, India Homes )
SDF Partnered with Macmillan laying down HR processes , building HR systems, & Other HR interventions.
'Mr. Yash Mehta'

( Macmillan )