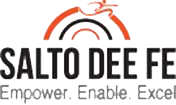 Company
Profile
Salto Dee Fe is a business enabling consulting firm that has developed a niche and works at the intersection of Strategy & Execution and Business & Human Resources.
We partner with organizations to smoothly launch their business in its next phase of growth
We focus on the two primary pillars of Human Resources in any organization - shareholders (with focus on profits and governance) and employees (with focus on execution)
We make sure that sales and governance talk to each other and people are enabled to deliver whatever the business demands from them.
Our Organizational Transformation and Employee Retention solutions are specifically designed to solve the tricky problems of people. A great strategy is of little use if not executed well, thus strategies are enabled by people. Thus we enable people to execute new strategies, growth phases and even handle down. We like to converse and then co-create solutions. We understand you and your context and then offer bespoke solutions that best fit your organization's needs.